Description
Infinite Care in Critical moments
HP-80 MRI Infusion Workstation
Integrated Solution for safe and continuous infusion administration in MRI environments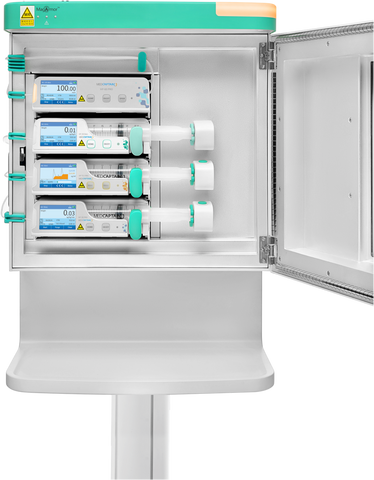 Safely administering infusion
therapy in MRI environments
HP-80 MRI protects the HP pumps against the very strong permanent magnetic field up to 20 mT.
HP-80 MRI protects the imaging process against disturbances caused by the infusion/syringe pumps (here infusion pumps).
Compatible with HP PRO series pumps:
HP-30 PRO, HP-60 PRO, HP TCI PRO, HP-30 Neo, syringe and infusion pumps can be freely combined based on clinical requirements up to 4 pumps:
Parallel patient preparation improves utilization ratio.
Support HP-80 station's function.
Reliable high-precision drug delivery.
Anesthetist reaps the benefits of using familiar equipment.
Designed for the MRI
environments
HP-80 MRI infusion workstation enables continuous infusion of critical medications during MRI procedures, thereby reducing the delay in MRI diagnosis or administration of medications in critical situations.